Pakistan Taliban announce end to ceasefire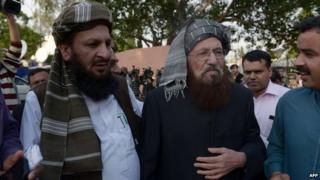 The Pakistani Taliban have announced that they will not extend the ceasefire they began in March, effectively ending their truce with the government.
A Pakistani Taliban (TTP) spokesman said the move was due to the government ignoring their demands, but that they remained committed to peace talks.
There was no immediate response from the government.
Peace talks with the TTP were a key campaign pledge for Prime Minister Nawaz Sharif in last year's elections.
The two sides had agreed to the ceasefire as part of peace efforts.
'Sincere' peace talks
The TTP pledged a month-long ceasefire on 1 March, which was later extended to 10 April.
The government had also suspended air strikes against militants.
However, on Wednesday the TTP said in a statement that its central council had "unanimously agreed not to extend the ceasefire" because the government had been "completely silent" following the Taliban's initial demands.
"However, the talks process will continue with complete sincerity and seriousness," it added.
Pakistan's Interior Minister Chaudhry Nisar Ali Khan said a few days ago that the talks were about to enter a "comprehensive" phase.
The government began negotiations with the TTP earlier this year to try to end the militants' violent struggle against the state which has claimed thousands of lives, the BBC's Haroon Rashid in Islamabad reports.
Negotiations between the Pakistani government and the Taliban continued for some time but lately reports of a deadlock had emerged, our correspondent adds.
Despite the recent ceasefire, Pakistan has continued to be hit by attacks in the past month, including a bomb attack in an Islamabad market that killed at least 20.
The TTP denied having anything to do with the attack, but correspondents say the TTP sits at the helm of a loose network of territorially independent militant groups who have different agendas, and not all will favour peace talks.