Afghan notebook: Spotting fraud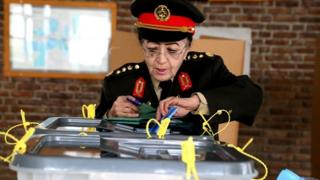 As the vote count continues in Afghanistan's presidential election, fraud remains an important concern.
The Afghan election complaints commission says it has received more than 3,000 reports of violations of which around half will be investigated. However the commission's head Satar Sadaat told BBC Pashto that at this stage none were serious enough to put the legitimacy of the poll in question.
The country's last presidential election in 2009 was marred by widespread vote rigging, but it took several days for the full extent of the fraud to be revealed.
Initial reports suggest the process went more smoothly this time, but officials stress there is still a long way to go.
Here are the five ways observers fear the vote could be manipulated:
Threats and intimidation
The Taliban said they would do all they could to disrupt the vote. There were no big attacks on election day but there were sporadic reports of violence in some areas.
Ahead of the vote Abdullah Salimi, who works in the call centre of the Independent Election Commission in Kabul said he had taken calls from people complaining about armed men telling local people to vote for a particular candidate.
On election day, more than 10% of polling centres across the country remained closed because of security concerns.
Detailed reports are likely to emerge in the coming days about the extent to which intimidation affected the vote.
Measures taken:
About 200,000 troops were deployed around the country to keep voters safe.
Noor Mohammad Noor the IEC spokesman said they were only opening polling stations in places where security was guaranteed. "But if our staff are threatened it could lead to infringements," he said. "They're ordinary people and they can't fight back."
Multiple voting
Some 20 million voting cards were reported to be in circulation for about 12 million eligible voters, raising fears of cards being sold and people voting several times.
Jandad Spin Ghar from the independent Free and Fair Election Forum said there were many reasons for the oversupply. "Some influential local commanders have asked their supporters to apply for multiple cards to cast multiple votes."
With no computerised records available, Mr Spin Ghar said it was also hard to check if people had already been given cards.
Abdullah Salimi from the IEC call centre heard a lot of complaints in the run-up to polling day.
"In one village in Daikondi province [central Afghanistan], there were 400 people eligible to vote, but 1,700 voting cards were distributed," he said.
Measures taken: Every voter had their finger inked to prevent them voting again. In 2009 there were complaints the ink could be washed off,
BBC reporters who voted said it was impossible to scrub the ink off this time, suggesting that officials succeeded in improving the system.
Noor Mohammad Noor, the IEC spokesman, said officials were also using invisible ink and ultra-violet scanners to prevent fraud.
Voting irregularities
Ahead of the vote there were concerns over men voting on behalf of female relatives, and about the number of voting cards issued to underage voters.
However on polling day itself the biggest problem turned out to be a shortage of ballot papers.
BBC Pashto and Persian reporters across the country reported voting disrupted at polling centres from Kabul to Kandahar as supplies ran out.
In Kandahar local officials said that despite a registered electorate of one million people, they had been issued with just 600,000 papers.
It appears from early reports that election officials underestimated the numbers of people who would turn out to vote.
Election complaints officials will be looking at whether there were any deliberate attempts to undersupply polling stations, and whether the problem had more impact in some areas than others.
Measures taken: On election day itself voting was extended in many areas in order to give officials time to bring in new supplies of ballot papers.
To encourage women to make use of their vote, every polling centre had separate polling stations for men and for women.
In Kabul over 1,000 extra policewomen were trained to ensure that female voters could take part safely.
Officials were on hand at all polling stations to enforce strict electoral rules that "each voter must vote in person. Voting on behalf of another person is not permitted."
Corruption
In the 2009 presidential election there were widespread reports of local officials, and even polling centre staff trying to influence the vote for financial gain or political bias.
There were also cases of voting cards for sale.
FEFA spokesman Fahim Naimi said there were big concerns about local officials pressurising their staff to vote for whichever candidate could benefit them.
There were also worries about the neutrality of election officials.
"Local IEC staff could rig the vote," said Mr Naimi. "They are running the process on the ground and they can do anything."
Measures taken: Noor Mohammad Noor of the IEC pointed to the unprecedented levels of monitoring this time round.
"We gave accreditation to 260,000 people, including observers, reporters and candidates representatives."
He said there were dozens of international and local media organisations. "And most important of all, social media is booming in comparison to 2009 and they are watching very closely."
Tampering with ballot boxes
In the 2009 election, ballot box stuffing was widespread and more than one million votes were discounted.
A caller to a BBC programme gave a typical example from 2009.
"In our area in Takhar, fraud was committed by local officials," said Amanuallah Azizi. "The boxes which contained our votes were thrown into the river, We saw it ourselves. Other boxes were stuffed."
Jandad Spin Ghar from FEFA said this remained a big concern in remote areas.
"In polling centres where the turnout is low and there aren't many observers, or where the IEC staff favour a particular candidate, it's easy for them to stuff the ballot boxes," he said.
Mr Spin Ghar also said there were concerns about the possibility of fraud taking place when the ballot boxes were being transported from the polling centres back to Kabul.
According to election rules if ballot boxes are opened, or results sheets tampered with, this will invalidate the final vote, even if the count at the polling centre has been carried out properly.
Measures taken: Procedures were tightened for this election. According to rules on the IEC website, all counting has to take place at polling centres.
The results must be posted outside the polling stations, with copies given to observers and candidates' agents.
The results will then be put into tamper-proof bags and returned to Kabul.
Preliminary results are expected on 24 April.
Tahir Qadiry, Firuz Rahimi, Jenny Norton and Johannes Dell contributed to this article.