Chinese tourist, hotel worker abducted in Sabah, Malaysia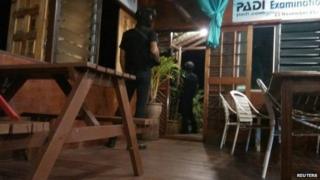 A Chinese tourist and a hotel worker have been abducted by gunmen from a holiday resort in eastern Malaysia.
The tourist, 29, and the 40-year-old Filipino hotel worker were forced into a boat by six men armed with pistols late on Wednesday, local media said.
The holiday resort is in Semporna district in the eastern state of Sabah, on the island of Borneo.
Tourists have been abducted in the past by militants based in the southern Philippines in kidnap-for-ransom cases.
In November, a Taiwanese tourist was shot and killed by armed men who abducted his wife. She was subsequently rescued by the Philippine military.
The area also saw violence last year when several hundred followers of a Philippine sultan landed in Sabah, saying it was their territory.
The incident comes amid rising negative sentiment over the safety of Chinese tourists in Malaysia, following the disappearance of Malaysia Airlines jet MH370.