Australia rejects controversial crocodile hunting plan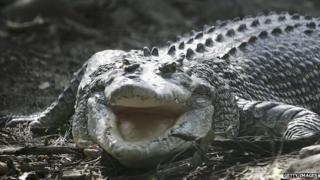 Australia has rejected a controversial plan to allow crocodile safari hunting in the Northern Territory.
The Australian government said "trophy hunts" would not be appropriate.
"There have been a series of ministers that have periodically rejected this," Environment Minister Greg Hunt said. "My view is that there was a risk of cruel and inhumane treatment."
The proposal, which was backed by the territory government, would have allowed up to 50 crocodiles to be shot.
Currently, 500 crocodiles are culled in the region every year.
Backers of the plan argued that hunting crocodiles would provide a source of income for indigenous communities.
Minister for Parks and Wildlife Bess Price criticised the decision.
"Greg Hunt has made a decision which will do nothing to improve the lives of indigenous Territorians living in remote communities," she told the Australian Associated Press news agency.
Activist groups disputed this, saying that killing the animals would send a wrong message.
Saltwater crocodiles can grow up 7m (23ft) long and weigh more than a tonne.
Crocodile numbers have increased since being declared a protected species in 1971. They are a common feature of Australia's tropical north.
Australian police shot two crocodiles dead in January while on a search for a missing 12-year-old boy attacked by a crocodile in the Northern Territory.
Another man was killed by a crocodile in August, when he swam in a river in the north during a birthday party.