Japan PM Shinzo Abe visits Amsterdam's Anne Frank museum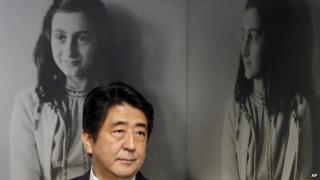 Japanese leader Shinzo Abe has visited Amsterdam's Anne Frank House museum, weeks after 300 copies of her famous diary were vandalised in Tokyo.
Mr Abe said he made the visit "to encourage peace in the entire international community".
A suspect is in custody for vandalising the books, but his motive is not known.
Mr Abe was lambasted by Seoul and Beijing last December for visiting a Tokyo shrine to dead Japanese soldiers, including convicted WW2 criminals.
Anne Frank's diary was written during World War Two, while the teenager hid from the Nazis in occupied Amsterdam.
The book made her a symbol of the suffering of Jews during the war.
Mr Abe's grandfather, Nobusuke Kishi, was minister of industry for much of the war.
He was arrested after Japan's surrender but was never charged and went on to serve as prime minister.
Speaking at the Amsterdam museum, Mr Abe noted the "deep connection" between Japan and the Anne Frank diary, and the fact that many Japanese visit the museum.
"Looking ahead to the many years of the 21st Century I would like to ensure that we will never see the same things happening, and I share the responsibility of realising this goal," he said.
Mr Abe is in the Netherlands for a Nuclear Security Summit and a G7 meeting on the crisis in Ukraine.
He is also due to hold talks with South Korean President Park Geun-Hye hosted by US President Barack Obama after the nuclear summit.