Afghan notebook: Wowing the crowds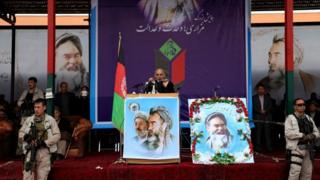 As Afghanistan's presidential election campaign gets into full swing, some of the candidates have been defying security concerns, organising big rallies to meet their supporters. The BBC's Harun Najafizade followed some of the frontrunners to watch them in action.
Former finance minister Ashraf Ghani made the long journey north to hold two big events in Takhar and Badakhshan provinces.
With road travel to such remote places considered too dangerous, he had to fly.
At Kabul airport the nervous looking owner of local airline KamAir had come to see us off.
As we boarded our flight to the northern city of Kunduz with Mr Ghani and his campaign team we were accompanied by a host of Kalashnikov-toting bodyguards.
From Kunduz we flew on by helicopter to a huge campaign rally in Taloqan, a town with a mainly Tajik and Uzbek population.
We were met by a sea of colour.
The town was festooned with black, red and green Afghan flags.
There were thousands of posters of the candidate and his running mates. Women in bright blue burqas stood at the edge of the crowd.
Mr Ghani's running mate, local strong man Abdul Rashid Dostum, had ensured a good turnout.
His team had rented buses, trucks and even horses to bring people in from remote villages.
Dress sense
Wearing a brown Uzbek traditional cloak known as a gopicha, Ashraf Ghani made a rousing speech about tolerance to the largely ethnic Uzbek crowd.
No Afghan is more or less equal than any other, he said.
"Politicians promise a lot," one young man in the crowd told me. "Now it's time for them to deliver."
Next stop was the mountainous province of Badakhshan.
As Mr Ghani's black Lexus sped through the streets, passers-by waved.
In the small town of Faizabad a group of young activists appeared with posters of Mr Ghani's main rival, Abdullah Abdullah.
They all held up their index fingers to indicate number one - Dr Abdullah's number on the ballot.
It was an awkward moment and Mr Ghani's campaign team did their best to distract me from noticing.
But otherwise it had been a successful day for them, and a chance to respond to the huge rally held by Dr Abdullah in Kabul earlier.
Pitch invasion
Dr Abdullah's event, held in the city's football stadium, had all the excitement of a big pop concert.
The candidate arrived in an armoured vehicle.
Stadium officials had initially denied permission for the rally because of worries the grounds might be damaged.
But I was told an intervention by President Karzai on the candidate's behalf, had changed their minds.
Dressed in blue, his campaign colour, Dr Abdullah made his way through cheering crowds to the stage shaking hands with people as his bodyguards kept a watchful eye.
The four different factions that make up his campaign had each delivered around 15,000 supporters, and the stadium was full to bursting point.
A campaign aide told me they'd spent heavily to bus everyone in and provide them with blue flags to wave.
An emotional Dr Abdullah, who lost to President Karzai in the controversial 2009 election, vowed that he wouldn't allow the poll to be marred by fraud again.
The crowds were ecstatic, but there were complaints from some athletes afterwards over damage to the grounds which Dr Abdullah's team promised to repair.
Big tent
If Dr Abdullah's rally felt like a pop concert, then former foreign Minister Zalmai Rassoul's had the atmosphere of a state occasion.
It was held in the Loya Jirga tent used for traditional gatherings of Afghan elders.
Pashto and Dari songs blared out from loud speakers and campaign posters showed Mr Rassoul standing, hand on heart, in front of former kings, Zahir Shah and Amanullah Khan.
Mr Rassoul's young and mainly Western educated campaign team handed out leaflets with photographs of their candidate looking relaxed.
Unlike the other two rallies, supporters here were all seated.
The audience, like the campaign team, were mainly urban educated Afghans, people from all ethnic groups and including many women.
Mr Rassoul, who claims royal lineage, appeared with his female running mate Habiba Sarobi.
He spoke in Pashto from a prepared speech. Although an ethnic Pashtun, he was born and brought up in Kabul and is clearly more used to making speeches in Afghanistan's other main language Dari.
One of his supporters told me it didn't matter which language he spoke, as long as he got his message across.
And the message here was clear. A vote for me is a vote to rebuild the country and recapture the spirit of better times from Afghanistan's past.
With the speeches over, it was time for lunch. It's become a tradition for candidates to provide food for their supporters.
Kabuli pilau with meat and raisins is a popular dish and the caterers are usually the same companies who run Kabul's big wedding halls.
Weddings are a big source of income , but this spring, the election is proving even better for business.