Major blackout hits Australian city of Darwin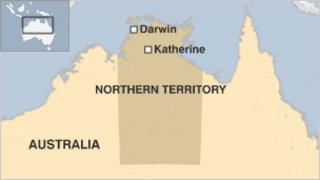 The northern Australian city of Darwin has been hit by a major power blackout, forcing schools to close and knocking out traffic lights.
The power cut, which was caused by a tripped circuit at a sub-station, affected all of Darwin and towns up to 300km (185 miles) away.
Government offices were closed for the day and the bus network was affected.
Power was eventually restored more than 12 hours after the outage began in the early hours of Wednesday, reports say.
The power cut hit the whole of the city of 130,000 and extended south to the town of Katherine.
"Technicians have been working since the outage occurred to restore power to affected areas," Power and Water, the area's electricity provider said in a statement, adding that it apologised "to customers for today's extended outage".
The Northern Territory (NT) government is to hold an inquiry into what happened, the Australian Broadcasting Corporation reported.
Earlier, a statement on the NT government's website read: "The NT public service has mobilised its emergency management protocols to ensure the community's safety."
All schools were closed, as were the courts. Motorists were urged to use extra caution because of the traffic lights' failure, although local reports said police were manning road junctions.
"Unless advised by their department, Territory public servants are encouraged to stay at home and await further advice on power restoration," the statement said.
The airport had a back-up generator and was functioning as normal during the blackout, reports said, as was the local hospital.