Five Afghan soldiers killed in Nato strike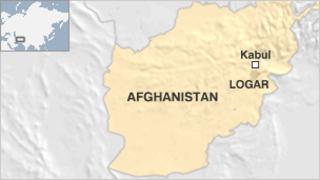 At least five soldiers from the Afghan army have been killed in a Nato air strike in eastern Afghanistan.
They were killed in the early hours of Thursday in the Charkh district of Logar province.
Nato confirmed the "unfortunate incident" and said it was investigating the circumstances behind the attack.
Correspondents say it is likely to anger President Hamid Karzai, who has been deeply critical of international air strikes that have killed civilians.
He has previously ordered all coalition air strikes to end unless previously cleared by the Afghan defence ministry.
Last year he also ordered a complete ban on Afghan security forces calling in air strikes in residential areas in 2013.
The BBC's Caroline Wyatt in Kabul says it is not clear why this air strike hit Afghan forces or what the military operation itself involved.
Although air strikes have inadvertently killed civilians in the past - sometimes because Taliban fighters seek shelter in residential areas - it is rare for Afghan soldiers to die in the course of such raids.
Contrite statement
Afghan defence ministry spokesman Zahir Azimi said on his Twitter account that five soldiers had been killed and eight others wounded in the overnight attack.
District governor Khalilullah Kamal, who has visited the scene, said the strike was carried out by a US drone.
"The post is totally destroyed," he told the AFP news agency. "The Americans used to be in that post, but since they left the ANA [Afghan National Army] took over."
Our correspondent says that the statement issued by Nato over this incident was particularly contrite and rapid in expressing its condolences, and reassuring Afghans it would investigate the raid.
Previous airstrikes have elicited furious responses from the president who has repeatedly called for military operations in residential areas to end.
In a statement, the Nato-led security mission Isaf said it values "the strong relationship with our Afghan partners, and we will determine what actions will be taken to ensure incidents like this do not happen again".
Most foreign troops are scheduled to leave Afghanistan by the end of the year.
President Karzai has refused to sign a security deal with the United States that would allow a reduced presence of international troops to remain in Afghanistan beyond that date.