Pakistan Hangu soldiers killed as talks due to resume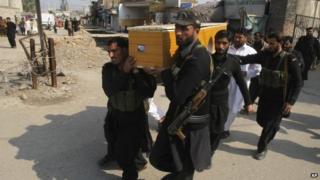 At least six Pakistani soldiers have been killed in a bombing in the north-west, as violence continues despite an apparent ceasefire with militants.
The military said another eight people were injured in the blast targeting a security convoy near Hangu, 110km (70 miles) south-west of Peshawar.
It is the first attack on security forces this month, and comes two days after a court in Islamabad was stormed.
A Taliban ceasefire announcement at the weekend has failed to halt violence.
The Pakistan Taliban (TTP) promised a month-long truce while peace moves resume. In response, the military halted air strikes against militant positions in tribal areas near the Afghan border.
The attacks since the weekend suggest the TTP are either not respecting the truce or are unable to control the many factions operating loosely under their command, observers say.
The TTP distanced itself from the Islamabad court raid, which a new group calling itself Ahrarul Hind - or the Freedom Fighters of the Indian Sub-continent - said it carried out.
There was no immediate claim of responsibility for Wednesday's attack.
A military official told the BBC the explosion was caused by an improvised explosive device (IED) planted on the roadside in the Warmangai area near Hangu.
They are the first military casualties since 17 February when a Taliban group said it had killed 23 soldiers held since 2010.
Hangu has been a hotbed of sectarian tensions as well as militant attacks due to its proximity to militant bases to the north and west of the town, reports the BBC's M Ilyas Khan in Islamabad.
The attack came as the government and the TTP were poised to resume peace talks that broke down last month.
Continuing violence threatens to make any talks meaningless.
There was no immediate reaction from the government or the TTP leadership.