UN court: Australia cannot use seized East Timor spy case documents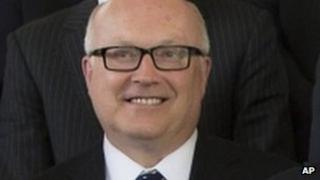 A UN court has banned Australia from using documents that it seized from a lawyer representing East Timor in a commercial spying case.
The Hague-based court also ordered Australia not to "interfere in any way in communications" between East Timor and its lawyers.
Australia said the decision was a "good outcome", as it refused East Timor's request for the documents' return.
The two sides are taking a spying row over a key energy deal to the UN court.
The case centres on claims that the Australian Secret Intelligence Service (ASIS) used listening devices, planted in East Timor's cabinet office under the guise of refurbishment, to obtain information about a Timor Sea gas treaty in 2004.
The Certain Maritime Arrangements in the Timor Sea (CMATS) treaty sets out how Australia and East Timor share gas reserves.
East Timor now wants the treaty scrapped on the grounds that the alleged spying gave Australia an unfair advantage in commercial negotiations.
'Confidential information'
The documents concerned were seized by Australian officials from the office of lawyer Bernard Collaery, who is representing East Timor, in December.
He said at the time that correspondence related to the case was taken and described the raid as an intimidatory tactic.
East Timor took the issue of the documents to the ICJ, seeking their return and also seeking an end to alleged Australian eavesdropping on lawyers connected with the case.
"Australia shall not interfere in any way in communications between Timor-Leste [East Timor] and its legal advisers," the International Court of Justice ruled on Monday.
Australia must keep the seized documents "under seal" pending a further decision of the court, it said.
"Given the likelihood that much of the seized material contains sensitive and confidential information relevant to the pending arbitration... the Court finds that it is essential to ensure that the content of the seized material is not in any way or at any time divulged to any person or persons who could use it, or cause it to be used, to the disadvantage of Timor-Leste in its relations with Australia over the Timor Sea," the ruling read.
In a statement, Attorney General George Brandis said Australia would comply with the ruling.
The dispute over the energy deal is being handled in a separate case by the ICJ's Permanent Court of Arbitration.