Can Pakistan Taliban ceasefire prevent bloodshed?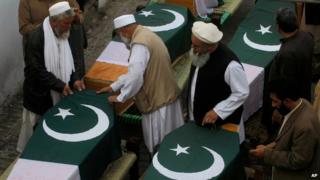 Pakistan's government and the Taliban each have their own reasons for wanting to pursue talks, but there are many factors that can undermine peace moves.
The month-long ceasefire agreement was not even a day old when Islamabad came under attack - the assault on a judicial complex was the deadliest in the capital for years.
But just how effective can such a ceasefire be?
Smaller militant groups will surface
The Pakistani Taliban (TTP) distanced itself from the Islamabad attack. But it was claimed by a new group calling itself Ahrarul Hind - or the Freedom Fighters of the Indian Sub-continent.
Many see a pattern in this, and accuse the TTP of complicity. Others say the organisation simply does not have control over all the groups affiliated with it.
The reality lies shrouded in a grand game of deception that has been central to all questions of war and peace in the Afghanistan-Pakistan region during the last 12 years or so.
In the past, while the TTP tended to claim responsibility for most high-profile attacks against government targets, it has mostly refrained from owning up to attacks against certain civilian targets - such as the Nanga Parbat tourist shooting of June 2013 or the September 2013 attack on a church in Peshawar.
Such attacks have been claimed by lesser-known groups, variously named as Jundul Hafsa, Jundullah, the Ghazi Force and many others.
The killing of 23 Pakistani soldiers in February was claimed by a Taliban group operating in the Mohmand tribal region.
Security analysts say all these outfits are linked overtly or covertly to the TTP, giving it the look of a loose organisation of territorially independent groups with different, localised security and economic concerns.
They not only provide the TTP with "plausible deniability", but some of them may actually not feel bound by TTP strictures.
The Taliban command is increasingly fragile
The TTP's command structure is also not as solid as it once was, and its base is becoming increasingly shaky.
The group's main strength has been the Mehsud clan tribal fighters, who were traditionally based in South Waziristan.
The group's heyday was the period between the 2007 Red Mosque siege in Islamabad - that fuelled its campaign against the Pakistani state and pulled other regional militant groups into its fold - and the November 2009 ground offensive by Pakistani forces that drove it out of South Waziristan.
Since then, it has lost much of its leadership in drone strikes, and is now virtually a group in exile, living in the neighbouring North Waziristan region which is dominated by its own set of militants led by Hafiz Gul Bahadur.
Hafiz Gul Bahadur's group is entirely focused on Afghanistan, and has a truce with Pakistan which has held since 2007.
Recent air strikes in North Waziristan have reportedly caused extensive collateral damage and forced thousands of people to flee to safe areas in Afghanistan and Pakistan. This put local pressure on the TTP as well.
Alleged militant 'safe havens' may not be needed now
According to local and international analysts, the TTP grew at a time when the Pakistani security establishment was more focused on protecting its "assets" - the Taliban - in Afghanistan against the post 9/11 US advance.
Many believe these assets were part of a wider Pakistani strategy to destabilise India, its arch-enemy, and to prevent it from expanding its influence in Afghanistan, a traditional Indian ally.
The political vacuum created in the Waziristan region in 2001-2002 was almost deliberate, they say, and was intended to provide militants with safe havens.
The Pakistani establishment has consistently denied allowing militants sanctuary in the region.
Nevertheless, there are indications of a tactical shift in the Pakistani policy, which promises hardships.
The country is now faced with a different set of choices. It is attempting normalisation with India - although these efforts are in their infancy - and tensions with Afghanistan are high.
It appears as if the government believes the internal threat has become greater than the threat from India.
The porous Afghan border is a concern for Pakistan
The deadline for Nato troops withdrawal from Afghanistan is approaching, and there are fears that it may leave that country's border with Pakistan even less secure than it already is.
The border has always been porous but the militant traffic has generally gone from Pakistan to Afghanistan.
The concern for Pakistan is that once Nato goes there is a scenario whereby the Afghan Taliban gain strength in Afghanistan's volatile southern and eastern provinces bordering Pakistan and militants could start travelling the other way.
There is a feeling among Pakistani defence circles that securing their own side of the border is becoming increasingly important, and that the Pakistani military's patience with hostile groups will be wearing thin in the coming weeks and months.
Pakistan, say analysts, would like the peace talks to become a vehicle for separating and demobilising the militant groups hostile to the government from those that do not pose an immediate security threat - a difficult task, given that all these groups have become enmeshed in a wider militant network with a common cause.
For the TTP, the priority would be to buy as much time as it can in line with the wider militant strategy of securing a sanctuary in the hinterlands of the post-Nato Pakistan and Afghanistan.
The questions of war and peace between the TTP and Islamabad are likely to be settled against this backdrop.