Thailand bus crash kills 13 students and two teachers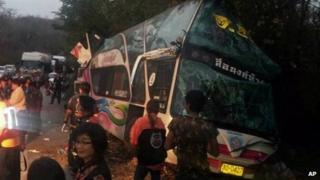 A bus crash in eastern Thailand has killed at least 15 people, including 13 students, Thai authorities say.
The bus was travelling to the seaside town of Pattaya, about 150km (90 miles) south-east of Bangkok, when it crashed into a truck, police said.
Thirteen students and two teachers died, while more than 30 were injured, they added.
Traffic accidents are common in Thailand, with poor safety standards and busy roads thought to be a factor.
The crash occurred early on Friday, police said. The students were travelling from the north-eastern city of Ratchasima on a field trip to Pattaya when their double-decker bus crashed into an 18-wheeler truck.
Police officials said the students were between the ages of 10-14. They are now investigating the crash.
Police Lt Col Anukarn Thammavijarn said: "The bus's brakes may have failed or the driver might have fallen asleep."
The World Health Organization says that Thailand has a "much higher" rate of deaths from traffic accidents than most other countries in South East Asia.
In December, 29 people died after a bus travelling through the northern province of Phetchabun plunged off Khun Pha Muang bridge.