Afghan suicide bomb 'kills nine' in Uruzgan province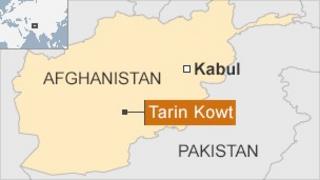 A suicide bomb attack on a hotel in the southern Afghan province of Uruzgan has killed nine people, officials say.
At least 37 people were injured in the blast, they say. All the casualties are believed to be Afghan nationals.
The police chief of Uruzgan province told the BBC that the explosion took place early on Tuesday evening at the popular hotel.
He warned that several people were seriously hurt and that the number of people killed could go up.
There was no immediate claim of responsibility for the attack in Tarin Kowt, although the Taliban will be the main suspects.
Provincial police chief Matiullah Khan said that the bomber entered the premises then blew himself up moments later.
Police say that the attacker came into the hotel to eat and stay the night, with the probable intention of carrying out his attack on Wednesday.
But they say that his explosives went off prematurely.
The owner of the hotel has survived the attack, police say.
The BBC's Karen Allen in Kabul says that it comes as tensions increase in anticipation of elections next month.
On Monday it emerged that intelligence warnings about a major attack which killed 21 Afghan soldiers last Sunday had been ignored.
The Taliban say they were behind that incident.