UK citizen Visvalingam Gobithas dies in Sri Lanka jail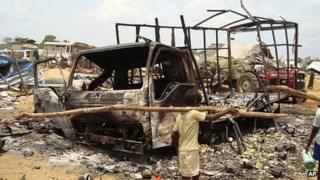 A British citizen has died in prison in Sri Lanka seven years after being detained while visiting the country.
Visvalingam Gobithas - of Sri Lankan Tamil origin - was convicted in 2012 of helping the Tamil Tiger militants, a charge he denied.
Officials say he died of heart failure although some members of his family say they believe his death is suspicious.
The BBC's Charles Haviland in Colombo says Gobithas was shortly due for release, according to reports.
A magistrate in Colombo has ordered an inquiry into Gobithas's death and the production of witnesses in court.
The Sri Lankan prisons department said Gobithas, a father of two daughters believed to be in his 40s, succumbed to a heart problem in the main Colombo jail on Monday.
His brother told the BBC that some family members blamed the prison authorities for not giving him proper food or timely hospital treatment.
Tamil politician Mano Ganesan described the death as "political murder".
He said Gobithas had been beaten up by ethnic Sinhalese prisoners in the past, yet was not protected subsequently.
Mr Ganesan also accused Britain of paying little heed to Gobithas's welfare.
The UK's Foreign Office said it was aware of the death and was providing consular help to Gobithas's family who have arrived from Britain.
Gobithas had been detained without charge for five years under Sri Lanka's Prevention of Terrorism Act before being found guilty in 2012 of providing support to the Tamil Tigers.
Sri Lanka's army defeated the separatist Tamil Tigers in May 2009 after almost 30 years of brutal and bloody civil war.