Afghan soldiers 'had prior warning' of Taliban attack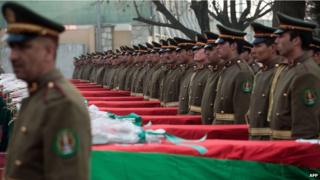 The Afghan army received warnings from the Taliban three weeks before an ambush which killed 21 soldiers, the BBC has learned.
The attack took place on a checkpoint in Kunar province, close to the border with Pakistan, on Sunday.
The Afghan ministry of defence denied suggestions that the soldiers had been asleep when the attack started.
The raid was one of the deadliest Taliban attacks against the army in the past year.
Security sources confirmed to the BBC that phone conversations had been intercepted between soldiers from the Afghan army and fighters from the Taliban about 20 days ago.
The BBC's Karen Allen in Kabul says it now appears those warnings were ignored.
Ceremony
Gen Mohammad Zahir Azimi of the Afghan defence ministry said "hundreds" of insurgents had taken part in the attack, which continued for several hours.
He also claimed that "foreign fighters" had been involved.
The bodies of 17 of those killed were handed over to their families in a special ceremony in Kabul on Monday.
Militants have escalated attacks in recent months ahead of the withdrawal of foreign troops at the end of 2014.
Casualties among Afghan troops have been rising significantly since they took the lead in the war against the Taliban.
Security has been stepped up across Afghanistan ahead of April's elections.
Eleven candidates are standing to replace President Karzai, who cannot seek re-election.
The Taliban has threatened to target the campaign.