Top Pakistan Taliban commander Asmatullah Shaheen 'shot dead'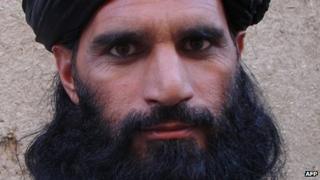 A senior Pakistani Taliban commander has been shot dead in a militant stronghold near the Afghan border, security sources and relatives say.
Asmatullah Shaheen was ambushed as he drove through a village near Miranshah in North Waziristan, reports said. Three aides in the vehicle also died.
It is unclear who killed them. There has been no word from the militants.
Shaheen was briefly the TTP (Pakistani Taliban) interim leader after its chief Hakimullah Mehsud was killed last year.
Mehsud died in a US drone strike in November and was later replaced by a new leader, Mullah Fazlullah.
Since then, there have been a series of attacks in which unidentified gunmen have targeted militants in the tribal areas, puzzling observers about who could be behind them.
The attacks have taken place against a backdrop of continuing militant violence across Pakistan and a limited military operation against Taliban strongholds, despite attempts between the two sides to hold peace talks.
Those talks broke down last week after a Taliban faction said it had killed 23 security force personnel in retaliation for the killing of militant fighters by the army.
Shaheen, who is believed to have supported peace talks, is the most senior militant to die since Hakimullah Mehsud was killed.
He was ambushed in the village of Dargah Mandi, about 5km (3 miles) north-west of Miranshah, the main town in North Waziristan.
"Unknown attackers opened fire on Asmatullah Shaheen's car. He along with three associates died on the spot," a security official in Miranshah told the AFP news agency.
News agencies quoted family members confirming his death, although there has been no official confirmation from the Taliban or the army.
Asmatullah Shaheen sat on the Pakistani Taliban's executive council. He was on a Pakistani government list of most wanted militants and had a bounty of 10 million rupees ($95,000) on his head.
Originally from the small Bhittani tribe, he shot to prominence in December 2011 when his men kidnapped about 15 Frontier Corps security force personnel. Many of the detainees were later killed.
The BBC's M Ilyas Khan in Islamabad says he is believed to have depended on the much larger Mehsud tribe for his clout in militant circles.
Who killed him remains unclear, our correspondent says.
Tensions among Pakistani insurgent factions have led to some observers blaming such attacks on militant infighting.
But our correspondent says Pakistani intelligence also maintains a network of agents and proxies in the area, and their involvement cannot be ruled out.