Thailand crisis: Army rules out intervention as blast toll rises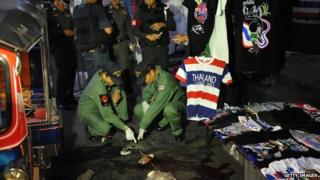 Thailand's army chief says the military will not intervene with force in the country's crisis, as the death toll from a blast in Bangkok rose to three.
Thailand's political crisis has become increasingly violent since mass protests began in November.
On Sunday, an apparent grenade blast near an anti-government protest site killed a woman and a four-year-old boy.
Doctors said on Monday that the little boy's sister died later of brain injuries.
Twenty-two people were hurt in Sunday's blast, including a nine-year-old boy who is in intensive care.
Sunday's attack came hours after gunmen opened fire on an anti-government rally in eastern Thailand, killing a five-year-old girl.
Thai Prime Minister Yingluck Shinawatra has condemned the attacks, describing them as "terrorist acts for political gain".
UN Secretary Ban Ki-moon has also spoken out, calling for violence "from any quarter" to end immediately.
There has been continued speculation that the military might step in after three months of protests in Bangkok, the BBC's Jonathan Head in Bangkok reports.
However, on Monday, army chief Prayuth Chan-ocha said that the military would not intervene with force. Instead, it would deploy troops to provide protection to people.
"Somebody has to take responsibility but that doesn't mean soldiers can intervene without working under the framework [of the law]," he said in a televised address.
"How can we be sure that if we use soldiers, the situation will return to peace?"
The army is widely viewed as sympathetic to the protesters, our correspondent says.
'Harder fight'
Tensions across Thailand have escalated since a wave of anti-government protests began in November.
The demonstrators want Ms Yingluck to resign to make way for an appointed interim government, but she has refused.
Last week, several people were killed in clashes that erupted in Bangkok when police began clearing sites blocked by protesters.
No group has so far said they carried out either of the weekend attacks.
But our correspondent says it appears to be the start of retaliation by the armed wing of the so-called "red-shirt" movement that backs the governing Pheu Thai party.
Red-shirt activists have watched with growing frustration as the protesters have been allowed to obstruct the government and sabotage the 2 February election, he adds.
Ms Yingluck heads a government that won elections in 2011 with broad support from rural areas.
In response to the protests, the prime minister called snap elections earlier this month, which her government was widely expected to win.
However, the polls were boycotted by the opposition and voting was disrupted by protesters at about 10% of polling stations, meaning by-elections are needed before a government can be formed.
Demonstrators have been blocking official buildings, including the prime minister's office, Government House, since late last year.
Officials said that Ms Yingluck was working outside Bangkok, and that it was "highly likely" that a cabinet meeting on Tuesday would be held outside the capital, Reuters news agency reported.
On Sunday, leaders of the pro-government United Front for Democracy against Dictatorship (UDD) held a rally attended by thousands of supporters.
"This fight will be harder than any other ... You must think how we can deal with [protest leader] Suthep [Thaugsuban] and those supporting him," UDD leader and Pheu Thai official Jatuporn Prompan said.