Nepal to deploy security on Everest after brawls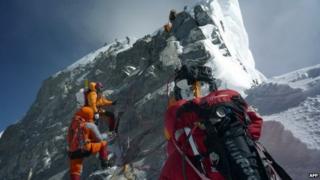 Nepal has decided to deploy a team of security officials at Everest base camp, in a bid to avert brawls between climbers, officials say.
Last April a fight erupted between European mountaineers and a group of Sherpas at 7,470m (24,508ft).
Although that dispute was eventually resolved, officials say Everest's slopes are becoming more crowded.
An office staffed by army and police will open in April at Everest base camp as the climbing season gets under way.
Nepali tourism ministry official Dipendra Poudel told BBC Nepali's Surendra Phuyal that the security team of nine would comprise three officers each from Nepal's army, police and armed police force.
He added that they would be assisted by officials from the tourism ministry.
Our correspondent says that last year's brawl between a group of European climbers and Sherpas raised concerns about the safety and security of climbers.
The conflict - which made headlines around the world - was allegedly over the fixing of ropes on the slope.
Officials say the new office will also be able to help climbers in distress, clean the mountain and enforce climbing rules, the Associated Press news agency reports.
More than 3,000 people have scaled Mount Everest since it was first conquered by Edmund Hillary and Tenzing Norgay in 1953.
Straddling Nepal and China, the world's highest mountain has an altitude of 8,848m (29,029ft).