Japan Bali divers: Four rescued divers return home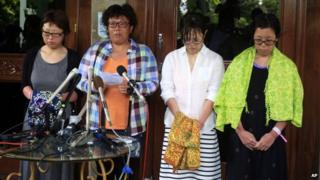 Four Japanese divers who went missing for three days off the coast of the Indonesian island of Bali described their ordeal on returning home.
They were part of a group of seven scuba divers who disappeared in bad weather during a dive last week off Nusa Penida, 20km (12 miles) from Bali.
Five of the all-female group were rescued on Monday. One body was found on Tuesday. Another remains missing.
Arriving at Kansai airport, they spoke of their pain over the last week.
Emi Yamamoto, said: "It's painful that some of us could not return to Japan."
Speaking on behalf of the group, Ms Yamamoto apologised for any trouble caused, adding that she hoped the women could "recover soon and go back to life as it was before".
'Collecting rain water'
Indonesian search and rescue authorities have called off the search for the remaining diver, reports said.
The women, all experienced divers, went on two diving trips early on 14 February but failed to return after a third trip that afternoon.
Rescuers searched for the women over the weekend, before finding five of the women on a large coral reef on Monday, officials said.
In a joint statement, the women said: "We were exhausted. We couldn't get any water on the first day as it was sunny."
"On the second day, we collected rain water in our fins to quench our thirst."
"We also collected rain water in plastic bottles picked up from garbage."
The captain of the boat who took the women on the dive has been arrested for suspected negligence.
Nusa Penida, popular with divers because of crystal clear waters and the opportunity to see rare Ocean Sunfish, is known for treacherous currents. A number of fatal accidents have occurred there.