Three militants killed in Afghanistan attack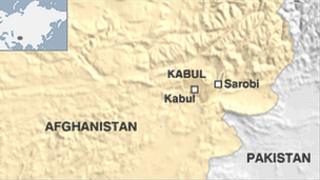 Three militants have been killed in Afghanistan after a suicide attack and gun battle with police, officials say.
One of the men detonated explosives inside a van as he drove up to local government offices in Sarobi, 50km (30 miles) east of the capital, Kabul.
Two men then opened fire before they were killed by police during the gunfight that followed.
The incident comes as Afghanistan is preparing to hold presidential elections on 5 April.
Police officials were quoted in reports as saying that one policeman was killed and two others were wounded during the attack.
The attack forced the closure of the main highway between Kabul and Jalalabad, near the Pakistan border.
The Taliban has claimed responsibility, reports say.
It happened in the same area where presidential candidate Abdullah Abdullah escaped being ambushed on Wednesday as his convoy returned from a campaign.
Security has been stepped up across many parts of Afghanistan with elections expected to be held in a little over a month's time, says the BBC's Karen Allen in Kabul.
Eleven candidates are standing to replace President Hamid Karzai, who cannot seek re-election.
Security has been a major issue, with the Taliban threatening to target the campaign.