China rejects 'unfair criticism' in UN North Korea report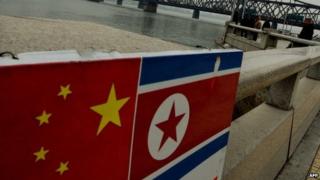 China has rejected what it termed "unreasonable criticism" from the UN over its response to alleged crimes against humanity in North Korea.
A UN report on Monday said that the countries must act on evidence that such crimes were being committed.
A panel of experts said that China might be aiding and abetting the crimes by forcibly repatriating North Koreans.
But a Chinese foreign ministry spokeswoman in Beijing said China saw them as illegal migrants.
Spokeswoman Hua Chunying dismissed any suggestion of Chinese complicity in human rights violations in North Korea.
"We totally don't accept this accusation," she said at a regular briefing.
"On the North Korean defector issue, our position is very clear.
"We properly deal with that in accordance with international law and humanitarian principles."
Torture and repression
China is North Korea's only ally and on Monday said that the UN report would "not help resolve the human rights situation".
The panel of experts mandated by the UN's Human Rights Council said North Koreans had suffered "unspeakable atrocities", and that those responsible, including leader Kim Jong-un, must face justice.
The panel heard evidence of torture, political repression and other crimes.
Pyongyang refused to co-operate with the panel's investigation, and said it "categorically and totally rejected" the findings.
The UN commission said Mr Kim had failed to respond to an advance copy of the report, and a letter which warned him he could be held personally responsible for abuses.
Testimony given to the panel from defectors included an account of a woman forced to drown her own baby, children imprisoned from birth and starved, and families tortured for watching a foreign soap opera.
'Entrenched discrimination'
The BBC's Imogen Foulkes in Geneva says the report is one of the most detailed and devastating ever published by the United Nations.
The "gravity, scale and nature" of the allegations "reveal a state that does not have any parallel in the contemporary world", it says.
The report says that in North Korea:
there is "an almost complete denial of the right to freedom of thought, conscience and religion"
"entrenched patterns of discrimination", rooted in the state-assigned class system, affect every part of life
discrimination against women is "pervasive in all aspects of society"
the state "has used food as a means of control over the population" and deliberately blocked aid for ideological reasons, causing the deaths of "hundreds of thousands" of people
"hundreds of thousands of political prisoners" have died in "unspeakable atrocities" in prison camps in the past 50 years
security forces "systematically employ violence and punishments that amount to gross human rights violations in order to create a climate of fear"
"In many instances, the violations of human rights found by the commission constitute crimes against humanity," the report said.
The panel will formally present its findings next month, when the Human Rights Council will decide which recommendations to support.