China policeman sentenced to die for killing pregnant woman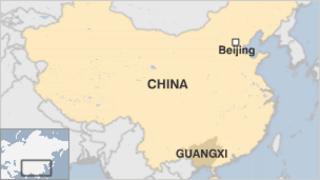 A policeman has been sentenced to death for killing a pregnant woman and injuring her husband at a restaurant in southern China, state media say.
Hu Ping shot the couple at their rice-noodle store in the autonomous Guangxi Zhuang region, according to reports.
He was drunk and apparently opened fire after being told the store did not serve milk tea.
The case caused outrage among social media users in China, where stories of abuse involving police are common.
Public anger
Hu pleaded guilty to the attack, according to the Shanghai Daily.
He had reportedly been eating and drinking with colleagues outside the restaurant in the town of Pingnan shortly before the shooting last October.
The husband sustained minor injuries to his right shoulder, but the wife and her unborn child died, China's Xinhua news agency said.
Hu was sentenced to death on Monday, according to court officials in the city of Guigang.
He was also ordered to pay the victim's family 73,324 yuan ($12,000; £7,200) in compensation.
Some reports said Hu would appeal against the sentence.
Cases of abuse involving police and local "chengguan" law enforcers regularly trigger public anger in China.
Four chengguan were jailed in December over a violent clash in Hunan province that left a melon seller dead.
Users of China's Weibo microblogging service broadly backed the death sentence given to Hu.
"Death would not be a sufficient punishment for his crime," said one user.
Correspondents say social media has played an increasingly important role in demanding accountability from authority figures in China in recent years.