Killing of Pakistani soldiers by militants 'heinous' - PM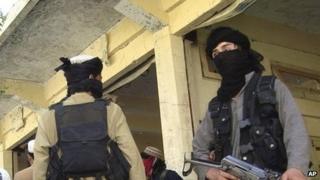 The Pakistani Prime Minister Nawaz Sharif has condemned the reported killing of 23 soldiers by a Taliban faction as a "heinous" crime.
Militants said in a statement on Sunday night that they had killed the soldiers, who had been held since 2010.
Mr Sharif said the deaths would have a negative impact on current peace talks with the Taliban.
Government negotiators cancelled a meeting with the Taliban scheduled for Monday.
Shahidullah Shahid, spokesman for the main Tehreek-e-Taliban Pakistan (TTP), said in a statement on Monday that the killings "appear to be connected to the killing of 23 of our people by the Pakistani forces since 28 January".
He said the TTP would contact the group based in the Mohmand tribal region which said it carried out the killings to find out further details.
In a statement to the media, a military official denied that any TTP men in custody had been killed. "They are using this false propaganda to justify their activities," he said.
Meanwhile, peace talks between the government and the Taliban have stalled with the reported killings prompting government negotiators to call off a meeting scheduled for Monday in the town of Akora Khatak.
The Taliban's negotiating committee expressed disappointment that the meeting had been cancelled, saying that they were close to deciding on a ceasefire.
The government's strategy of holding peace talks with the militants has come under harsh criticism from some quarters because attacks by suspected Taliban have continued against both civilian and government targets in recent days, the BBC's Ilyas Khan in Islamabad reports.
On Thursday, the TTP said it was behind an attack on a police bus in Karachi in which at least 13 policemen were killed.
A little-known group affiliated with the TTP said it carried out two grenade attacks last week in cinemas in the northern city of Peshawar that killed more than a dozen people.