Thailand poll talks amid fresh anti-government protests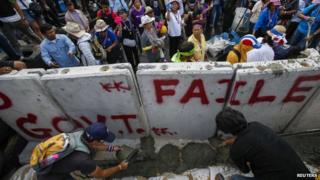 Thai government officials are meeting the election commission to discuss how to complete the country's elections.
The 2 February general election was disrupted by protesters in some places, so by-elections need to take place before a government can be formed.
The talks come as anti-government protesters rebuilt barricades outside official buildings in Bangkok, vowing to topple the government.
Thailand has been in a political crisis since mass protests began in November.
Police had cleared some protest sites in Bangkok on Friday, dismantling barricades near some government buildings with little resistance.
Protesters, however, soon regrouped. On Monday, thousands of demonstrators gathered outside Government House, cementing the gates shut in a bid to stop officials returning to work in the building.
"[Thai Prime Minister] Yingluck [Shinawatra] will never have a chance to work at the Government House again," protest leader and former opposition politician Suthep Thaugsuban said.
'Fraught talks'
The protesters want Ms Yingluck to step down, and her government to be replaced by an unelected "people's council" to reform the political system.
They allege that money politics have corrupted Thailand's democracy and that Ms Yingluck is controlled by her brother, ousted leader Thaksin Shinawatra.
Ms Yingluck leads a government that won elections in 2011 with broad support from rural areas. In response to the protests, she called snap elections on 2 February, which her government was widely expected to win.
However, the polls were boycotted by the opposition, and voting was disrupted by protesters at around 10% of polling stations.
Government representatives met the election commission in Bangkok on Monday to discuss when to hold reruns in places where voting was disrupted.
The talks between the two could be fraught and drawn out, the BBC's Jonathan Head in Bangkok reports.
The commission says polls should not be held while there is a risk of further clashes, and has set late April as the earliest date for the reruns.
However, the government argues that reruns should be held much sooner to meet the constitutional requirement for parliament to sit within a month of the main voting day.
Some ministers have accused the commission of siding with the protesters in trying to prevent the governing party from winning a new mandate, our correspondent adds.
Also on Monday, hundreds of rice farmers breached perimeter fences around the Defence Ministry, where Ms Yingluck is temporarily working, protesting against late rice payments.
The rice purchase scheme has seen the government buying farmers' crops for the past two years at prices up to 50% higher than world prices.
The policy was popular with farmers. However, it has led to Thailand's rice exports being badly hit, and critics say the scheme is too costly and vulnerable to corruption.
Correspondents say the government blames the delayed payments on the protesters, as it cannot borrow money to make the payments until a new parliament has convened.