Pakistan anti-drone activist Kareem Khan reappears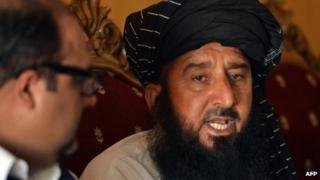 A Pakistani anti-drone campaigner who was abducted from his home in February, days before he was due to testify before European MPs, has reappeared.
Kareem Khan's lawyer says he was kidnapped, tortured and interrogated before being dumped near Islamabad.
The men who seized him wore police uniforms, the lawyer said.
On Wednesday, a Pakistani court ordered the government to produce him by 20 February or provide the reason for his detention.
The campaigner's brother and son were killed in a drone attack five years ago.
The United States uses unmanned drones to carry out strikes on Taliban and al-Qaeda targets in Pakistan's border region with Afghanistan.
Their use causes fierce controversy in Pakistan.
Pakistan's Prime Minister Nawaz Sharif has called for an end to drone attacks in Pakistan, saying they violate Pakistan's sovereignty.
However, the government is widely thought to co-operate in at least some of the strikes.