Australian fined for killing great white shark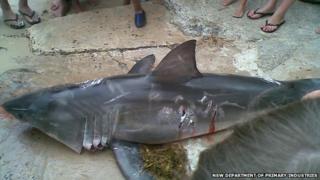 An Australian man who killed a great white shark by ramming it with his boat and beating it with a pole has been fined A$18,000 ($16,000; £9,000).
The 40-year-old man was found guilty of harming a threatened species by a court in New South Wales (NSW) on Thursday.
The incident occurred in January 2012 at Sussex Inlet, south of Sydney. One other man has also been charged.
Great white sharks are protected in Australian waters. Officials say they are important to the local ecosystem.
According to witnesses, the man herded the young shark into shallow water and deliberately hit it with his boat several times, the NSW Department of Primary Industries (DPI) said in a statement.
The shark's main injuries came from the boat's propeller, the DPI said.
A rope was then tied onto the shark's tail and it was towed onto a boat ramp by a second boat, where it was beaten on the head with a metal pole multiple times, the DPI added.
The man was fined and required to cover court costs. The second man, who helped tow the shark, was also charged.
"This conviction sends a strong message that harming our threatened species will not be tolerated - everyone needs to know the rules and ignorance is no excuse," Glenn Tritton, director of fisheries compliance at the DPI, said.