Australian man shot after killing son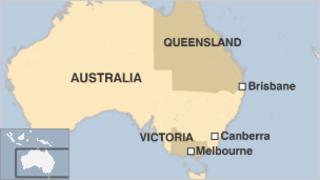 A man who killed his son at a cricket ground in Australia and was then shot by police has died in hospital.
The 11-year-old boy was found with fatal head injuries at a sports ground in Tyabb, Victoria, on Wednesday.
Police confronted his father and shot him after pepper spray failed to subdue him.
Police said they were not looking for anyone else in connection with the death of the boy, who media identified as Luke Batty.
According to Australian media reports, Luke had just finished cricket training when his father attacked him. Reports citing witnesses say a cricket bat was used but this has not been confirmed by police.
Paramedics tried to revive him but he died at the scene.
"A confrontation with the 54-year-old man then took place and OC [pepper] spray was deployed," Victoria Police said in a statement.
"This was unsuccessful and the man was subsequently shot in the upper body."
He was airlifted to hospital, where he later died.
"I confirm that the male shot by police is the father of the child who is deceased and we're not looking for anyone else," police commander Doug Fryer told media.
"It's a shocking time for everyone down there. The family, the community."
The father had a history of violence and was living in his car, local reports said. His wife, Rosie Batty, told Australian media he had a history of mental illness.
Police are currently talking to witnesses, including parents and children who were at the cricket ground when the violence happened.
Local residents have placed flowers at the oval in Tyabb, located 100km (60 miles) south-east of Melbourne.