US envoy Caroline Kennedy visits Japan's Okinawa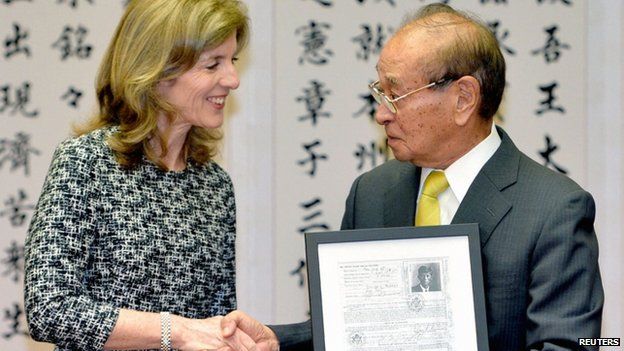 US Ambassador to Japan Caroline Kennedy is making her first visit to Okinawa island, amid ongoing opposition to plans to relocate a US base there.
The US envoy met Okinawa Governor Hirokazu Nakaima, who approved the relocation after years of deadlock.
Japan and the US want to close Futenma airbase and build a new one near the more remote Nago city in the north.
However, many want the base off Okinawa altogether, and Nago's mayor has vowed to block construction at the new site.
The US has around 26,000 troops on Okinawa under a long-standing security alliance with Japan.
But the bases are unpopular with locals, who associate them with noise, accidents and occasional well-publicised instances of bad behaviour and criminality by US personnel.
On Tuesday hundreds of Okinawans demonstrated against the relocation plan, waving placards with "no base" written on them, AP news agency reported.
Protester Kazue Nakamura-Huber told the agency: "We as Okinawan people gave our answer many, many times that we don't want maritime bases here."
On Wednesday, Ms Kennedy laid flowers at a memorial for those killed in World War Two, before meeting with Mr Nakaima.
During the meeting, Ms Kennedy said she hoped the two sides could work together to "keep the momentum moving forward for progress".
Mr Nakaima said: "There are various problems and tasks [related to the base] such as crimes, accidents as well as environmental issues and so on."
"We would like to seek and urge your help so as to resolve the issue fundamentally and to reduce our burden of having US bases.''
Mr Nakaima agreed to the relocation after Japan's Prime Minister Shinzo Abe pledged an economic stimulus package to Okinawa every year until 2021.
However, the decision prompted furious reactions in Nago, and was politically difficult for Mr Nakaima who was re-elected in 2010 on an anti-base platform.
In January, meanwhile, residents of Nago city re-elected Susumu Inamine as mayor. Mr Inamine had campaigned against the base being moved to Nago and says he will deny construction permits for the project.