Thai protest leader arrested in Bangkok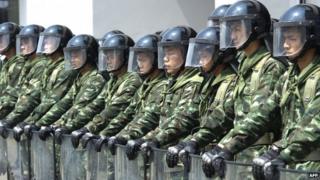 Thai police have arrested a prominent protest leader in the capital, Bangkok, for allegedly violating emergency rule.
Sonthiyan Chuenruethainaitham is among 19 anti-government figures subject to arrest warrants issued last week.
It is the first time a protest leader has been detained since anti-government rallies erupted in November.
PM Yingluck Shinawatra declared the state of emergency ahead of 2 February snap elections. Results are not yet known as protesters disrupted the poll.
Demonstrators blocked millions of voters from registering and casting ballots in Bangkok and southern Thailand.
Correspondents say the elections will have to be run again to fill the minimum of 95% of seats in parliament required by the constitution before a new government can be formed.
But the prime minister is widely expected to win the poll.
Protesters accuse Ms Yingluck of being under the control of her brother, ousted former leader Thaksin Shinawatra, who lives in self-imposed exile.
Tougher approach
Mr Sonthiyan, a well-known media figure, was arrested at a hotel in Bangkok on Monday morning, officials say.
Since the start of the protests, the leaders of the anti-government People's Democratic Reform Committee have been able to operate with impunity, the BBC's Jonathan Head in Bangkok reports.
Authorities have ordered the police to avoid confrontations with protesters, for fear of violence that could prompt the military to intervene.
But Mr Sonthiyan's arrest signals a tougher approach, our correspondent says.
Ministers told the BBC they would order police to detain other protest leaders, except for Suthep Thuagsuba, an opposition figure protected by former soldiers who would be arrested at a later stage.
Mr Suthep, whose regular marches through Bangkok are attracting dwindling numbers of crowds, has been forced to reduce the number of blockades in the city, our correspondent says.
But Mr Suthep has vowed to keep protesting until he achieves his goal of forcing Ms Yingluck from office.
The opposition Democrat Party, which is allied to the demonstrators, has filed a petition with the Constitutional Court to have the election annulled.
The party has been unable to win an electoral majority for two decades.
Protesters want the government to be replaced by an unelected "people's council", which would oversee wide reform of the political system.
Ms Yingluck's opponents took to the streets in November after she tried to pass an amnesty law that would potentially have allowed her brother to return from exile.
Thaksin, a former prime minister who fled during a court case in 2008, is reviled by the anti-government protesters.