Pakistan Punjab gas supply hit as pipelines bombed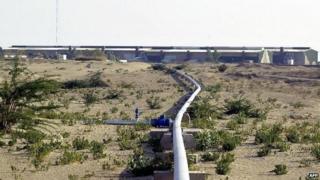 Militants in south-west Pakistan have blown up three pipelines, cutting gas supplies to the country's most populous province Punjab, officials say.
Separatist rebels in the south-western province of Balochistan said they carried out the attack.
Most of Punjab province, Pakistan's economic powerhouse and the electoral base of Prime Minister Nawaz Sharif, is now thought to be without gas.
Officials say it could take 48 hours for the supply to be fully restored.
Gas pipelines in Balochistan which pipe energy to large swathes of the country are frequently targeted by separatist rebels, but it is rare for several pipelines to be targeted at once.
This attack was focused on pipeline supplies close to the town of Rahim Yar Khan. One woman is reported to have been killed in the explosion and the fire is still burning.
The pipelines are managed by the Sui Northern Gas Company and mostly provide gas to Punjab.
Correspondents say that very few people keep gas cylinders to meet sudden shortages so the crisis is likely to hit households hard.