Indonesia skips Singapore Airshow amid warship row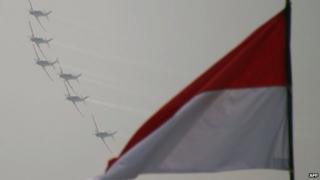 Indonesian military officers have pulled out of a Singapore aerospace show amid a row over the controversial naming of a naval warship.
Indonesia angered its neighbour by naming the new ship after two marines who carried out a bombing which killed three people in Singapore in 1965.
Singapore's second minister for defence said he was "disappointed" with Indonesia's naming decision.
Jakarta defended the move saying it was customary to name vessels after heroes.
'No intervention'
Indonesia announced earlier this month that it would name the ship "KRI Usman Harun" after Sergeants Usman Haji Mohamed Ali and Harun Said.
The two marines carried out a bomb attack on MacDonald House, a bank located in Singapore's Orchard Road shopping district, in 1965. The attack killed three people and wounded 33 others.
The attack was part of Indonesia's effort to confront the formation of the new state of Malaysia, which Singapore was then part of.
The duo were convicted and executed in 1968 despite clemency pleas from Indonesia. They were then given ceremonial burials and declared national heroes, as anti-Singapore protests erupted in Jakarta.
In a statement, Singapore's Second Minister for Defence Chan Chun Sing said statements from Indonesian leaders on the subject reflected a lack of sensitivity and care for bilateral ties.
But Agus Barnas, a spokesman for Indonesia's ministry for political, legal and security affairs, said that Indonesia had the authority to set its own criteria for naming warships.
"There should be no intervention from any other country," he said.
As a result, Indonesia's senior army officers and military chiefs have cancelled planned visits to the Singapore Airshow.
Plans for a strategic dialogue with Deputy Defence Minister Sjafrie Sjamsoeddin have also been scrapped.
Indonesia is Singapore's third largest trading partner, with trade amounting to $62bn (£39bn) in 2012.
But there is periodic friction between the two neighbours. Air pollution as a result of annual forest fires from Indonesia tested delicate relations between Singapore and Indonesia last year.