Pakistan: Karachi gunmen kill eight at faith healer's home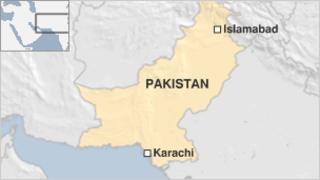 Gunmen on motorbikes have shot dead eight people, including an eight-year-old girl and her father, at a faith healer's house in the southern Pakistani port city of Karachi.
At least 12 other people were wounded in the shooting as dozens of people waited to see the Sufi cleric.
Karachi is Pakistan's largest city with an estimated 18 million residents.
It has been plagued by sectarian, ethnic and political violence for years.
"Six gunmen on three motorcycles stormed into the house and started indiscriminate firing," senior police official Irfan Baloch told AFP news agency.
He added that the attackers had fired 9mm pistols, a weapon used in a series of targeted killings in the city.
No group has yet claimed responsibility for the attack.
Faith healer Pir Meharban Shah sustained a bullet wound to his abdomen but survived.
He said he had not received any threats before the attack, adding that there was a power cut in the area when the attackers entered the house shortly after dark and opened fire.