Philippines thanks world for Typhoon Haiyan aid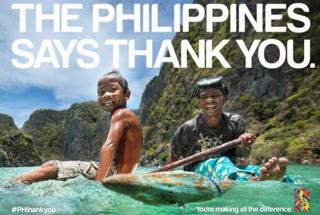 The Philippines has commissioned billboards in some of the world's prime advertising sites to thank people for their help after Typhoon Haiyan.
At 2040 GMT on Friday, exactly three months after the typhoon struck, the signs went up in New York's Times Square, London's Piccadilly Circus and six other locations.
Typhoon Haiyan killed more than 6,000 people, with 1,800 still missing.
More people were made homeless than by the 2004 Indian Ocean tsunami.
A total of 14 million people were affected, six million workers lost their sources of income, 30,000 boats were destroyed and millions of coconut trees were damaged or flattened.
"The Philippines wants to say a big thank you to everyone who are helping us rebuild after Typhoon Haiyan," the tourism ministry said in a statement to mark its #PHthankyou campaign.
"The world has been one with the Philippines in helping rebuild the nation."
The United Nations launched an international aid appeal in December for $788m ( £480m) to finance the humanitarian relief effort for 2014.
But Philippine President Benigno Aquino has said the rebuilding effort will require more than $8 bn.