UN reports rise in Afghan civilian deaths and injuries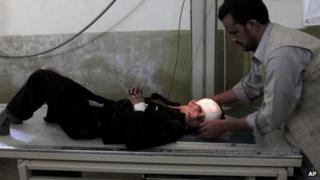 The number of civilians killed and wounded in the conflict in Afghanistan rose 14% last year, the UN says.
Nearly 3,000 civilians were killed and more than 5,600 were injured in 2013.
The report said the gradual withdrawal of foreign troops left Afghan government forces more vulnerable to attack by insurgents.
It said this had led to intensified ground fighting, which had contributed to an increase in civilian casualties, particularly of women and children.
The UN Assistance Mission for Afghanistan (Unama) said 34% more children and 36% more women were killed and wounded in 2013 than in 2012.
Taliban insurgents have stepped up attacks to try to gain the upper hand as international troops prepare to withdraw by the end of the year, and Unama blames 74% of civilian deaths and injuries on "anti-government elements".
Most casualties in 2013 were a result of roadside bombs or getting caught in the crossfire during ground battles between Taliban-led insurgents and Afghan forces.
The spike in casualties reverses a fall in 2012. The deadliest year of the war was 2011, when 3,133 civilians died.