Typhoon Haiyan survivors struggling to rebuild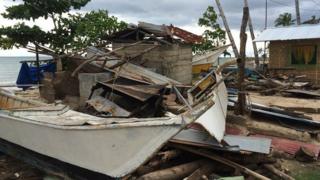 Eighty-two-year-old Aquilina Capampangan sits on the low wall that is all that remains of the home she and her 84-year-old husband Francisco built for themselves 52 years ago.
"Life is so difficult," she says. "If another storm comes, it will be very difficult for us to survive."
Like many others in the small coastal town of Daanbantayan and in the surrounding region - which lay in the path of "super typhoon" Haiyan as it tore across the central Philippines - the elderly couple emerged from a more substantial building in which they sheltered from the storm to find that their home for almost all their married life was a heap of metal sheets and pieces of wood.
At least temporarily, some of these materials have been salvaged and turned into the small one-roomed shack they are now living in, alongside the site of their old home.
I asked about the chances that they would be able to move into something less flimsy and vulnerable. After all, the ambition of all aid operations now after disasters of this kind is to "build back better".
They said they would need more wood and more roofing as well as money to pay someone to put up such a building for them. They had received financial help but this had gone on food.
But could other family members help, too?
"They have to take care of their own families," Aquilina said. "We just have to wait patiently."
In and around Daanbantayan, many do seem to accept that for all the damage there has been - to homes, to schools and other public buildings and to fishing boats that are such a vital source of income - a worse fate was endured by those to the east where the typhoon made its landfall and whipped up the storm surge that brought a wall of water inland, particularly in the devastated town of Tacloban.
It was in these more easterly regions that most of the casualties occurred. They now stand, according to government figures, at just over 6,000 dead and nearly 1,800 still missing.
But, as the aid operation moves increasingly from relief to recovery and reconstruction, it is the broader impact across the typhoon's path that defines the enormous challenges that lie ahead.
Fourteen million people were affected altogether - some 40% of them, it is calculated, already living below the poverty line. More people were made homeless by Typhoon Haiyan - known in the Philippines as Typhoon Yolanda - than by the 2004 Indian Ocean tsunami.
Close to six million workers lost their sources of income, 30,000 boats were destroyed, millions of coconut trees were damaged or flattened and more than 1m tonnes of crops lost.
Long term
The aid agency Oxfam is sufficiently worried about the pace of recovery - and that places like northern Cebu have been overshadowed by the more visibly devastated Tacloban - that it is now putting 200 of its 500 or so emergency workers into its operations in this area.
Oxfam is not alone in its concern that, for now, many people are starting to "build back worse", in a country that on average sees 20 typhoons a year. It believes this is a critical moment in the international response to the disaster and fears that the funding could begin to drop.
Tariq Riebl, Oxfam's Emergency Response Manager, has been in the region since the disaster. He cautions against being over-optimistic because the Philippines has a vibrant civil society with people who are very active in helping themselves in ways not necessarily seen in other countries hit by such disasters.
"Maybe," he says, "there should be a new assessment of all the needs as this would bring to the forefront that there is a massive amount of work to be done and we are not talking about months here. We are talking about years that this is going to take for these areas to recover.
"I hear too many people talk about six months or 12 months. This is not the scale we are looking at. We are looking at three to five years or more."
You certainly have a sense both of the resilience of Filipinos and of the scale of recovery in Daanbantayan.
A short distance back from the shore, I came across one of the local fishermen sorting through the iron sheeting and pieces of wood he was planning to use to start rebuilding his home.
"Only (a typhoon as powerful as) Yolanda could destroy my house," Glenn Rossell told me. He described the moment the typhoon hit: "Ten o'clock in the morning very strong. The sound of the wind is like a fighting cock, very noisy." He mimicked a screeching, howling bird. Three months on, the people around him - who were also trying to save their lives and their property on that fateful day - could laugh now. But the metaphor seemed alarmingly apt.
He said he had three sisters and three daughters, had repaired their homes first and now had no money left to pay a carpenter to help with the rebuilding of his own house.
At a school I visited, they have put up a temporary classroom to replace one that was badly damaged but are still waiting to repair damaged parts of the roof. Other schools had their roofs blown off, too.
Efforts are apparently being stepped up to relocate those who were living within 40m of the shore - on the grounds that they will then be less vulnerable in future typhoons.
But there is a backlash from some local fishermen who say this will discriminate against them.
A local administrator, Felisa Osabel, told me the government needed to resolve the issue and wanted to make progress. But she acknowledged: "For the poor it is hard."
And she undoubtedly spoke for many in this community when she said that from now on "with every single storm we will be afraid, always afraid".