India tigers 'at risk from virus after stray dogs dumped'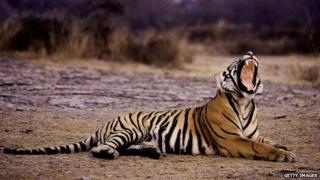 Officials in the Indian state of Maharashtra are investigating reports that tigers are at risk because stray dogs are being dumped near a reserve.
Wildlife activists say municipal workers are taking the dogs deep into nearby forests to stop them returning to the city of Chandrapur.
It is thought they carry a virus that can kill tigers.
Chandrapur commissioner Prakash Bokhad told the BBC he had demanded an explanation from his staff.
Wild cat populations
Experts say domestic dogs may carry the canine distemper virus which can be fatal to tigers.
It is estimated that there are around 80 tigers in the Tadoba-Andhari tiger reserve, which is about 920km (570 miles) east of Mumbai.
Conservation groups say some municipal workers in Chandrapur district have been releasing stray dogs into a forest area close to the main reserve at night time.
Local environmental organisation Green Planet Society says it has lodged a complaint with Maharashtra Forest Department against Chandrapur city authorities.
In the last year, at least four tigers are believed to have died because of the virus in other parts of India, according to India's National Tiger Conservation Authority.
Canine distemper virus, a close relative of measles, has seriously affected wild cat populations elsewhere in the world.
It is thought to have wiped out almost a third of the lion population in East Africa in the 1990s.
There are about 1,700 tigers left in the wild in India.