Osaka mayor Hashimoto in snap election call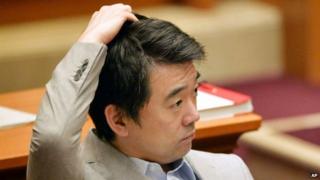 The mayor of the Japanese city of Osaka has called a snap election amid a row over his local government reform plans.
Toru Hashimoto, who sparked outrage last year with comments he made on Japan's war-time use of sex slaves, formally stood down on Monday.
He says he will hold an election that will serve as a referendum on his plan to merge the Osaka city and prefectural governments.
His move came after local lawmakers on 31 January refused to back his plan.
"I am quitting as mayor and I want to hold mayoral elections," he told media on Monday.
"There is no need to follow the resolution of the assembly. But this is politics. If the assembly says no and I do not agree and want to push my plans through, I need the support of citizens," he added.
Mr Hashimoto had said merging the city and prefectural governments would cut down on bureaucracy. It remained unclear whether political rivals would be fielding candidates for the election.
The election will most likely be held on 16 March or 23 March, Kyodo news agency says.
Mr Hashimoto, the co-founder of the nationalist Japanese Restoration Party, which has a small presence in parliament, drew global attention in May 2013 when he said Japan's World War Two enforced prostitution had been necessary to keep troops in line.
"If you want them [troops fighting a war] to have a rest in such a situation, a comfort women system is necessary. Anyone can understand that," he said.
Some 200,000 women on territories occupied by Japan during WWII are estimated to have been forced to become sex slaves for troops.