Mohenjo Daro: Protest over Pakistan festival at ruins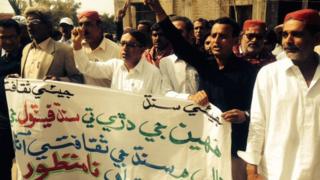 Civil society activists have held a protest as officials press ahead with plans to hold a festival on the ruins of a Unesco world heritage site, despite warnings from conservationists.
Scholars say the opening ceremony of the Sindh cultural festival could damage the ruins of Mohenjo Daro.
It is the world's oldest surviving city and dates back to the pre-Hindu Indus Valley civilisation.
Organisers have dismissed criticism, saying they are taking the utmost care.
The event is the brainchild of Bilawal Bhutto Zardari, the young leader of the Pakistan People's Party which governs Sindh.
He says the event will go ahead on Saturday.
"We've invited a very limited number of people, only about 500, to the opening ceremony because we don't want huge crowds there and cause any damage," provincial Culture Minister Sharmila Farooqi also told the BBC.
Large wooden and steel scaffolding is being erected over and around the ruins, while heavy spotlights and lasers have been installed for a light show.
Treasured site
But a group of civil society activists held a protest in the town of Larkana to denounce the festival.
They are worried that the construction work needed for the festival's opening ceremony could irreparably damage the 5,000-year-old site.
Some some scholars have written to the UN's heritage body Unesco, asking it to intervene.
Protesters shouted slogans against Mr Bhutto Zardari and accused his party's provincial government of showing disregard for the mud-brick ruins, reports the BBC's Shahzeb Jillani in Larkana.
"Mohenjo Daro is a sacred site for people of this land. It is not there to be used as a prop for government festivals," said Adal Solangi, one of the demonstrators.
"Mr Bhutto Zardari should fix the sorry state of our schools. He should focus on improving law and order and [the] poor governance of his party, instead of 'cultural emergency' and organising festivals," said Khadim Chandio, another protester.
Holding the festival in Mr Bhutto Zardari's home province is seen as an attempt to strengthen his local credentials - something that critics, citing his foreign education and privileged upbringing, fault him for.
In a rare interview earlier this week with the BBC's Lyse Doucet, he spoke passionately about the need to save Pakistan's cultural heritage, including Mohenjo Daro, which is now crumbling and in need of restoration.
But many of those treasured sites, including Mohenjo Daro, lie in his party's stronghold. Leading conservationists accuse his provincial government of disregard for preservation.
The ruins, discovered in 1922 by British archaeologist Sir John Marshall, are 425km (265 miles) north of the port city of Karachi.
They are one of Pakistan's six Unesco World Heritage sites deemed places of special cultural significance.