Australia Great Barrier Reef dredge dumping plan approved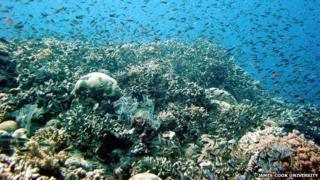 Australian authorities have approved a project to dump dredged sediment in the Great Barrier Reef marine park as part of a project to create one of the world's biggest coal ports.
The decision was made by the Great Barrier Reef Marine Park Authority.
Scientists had urged it not to back the project, saying the sediment could smother or poison coral.
Several companies want to use the Abbot Point port to export coal reserves from the Galilee Basin area.
Abbot Point lies south of Townsville on the Queensland coast.
Late last year, the government approved an application for the coal terminal to be expanded. The dredging is needed to allow ships into the port.
'Strict controls'
The approved disposal site for the dredged sediment is located approximately 25km (16 miles) east-north-east of the port, GBRMPA said in a statement.
"It's important to note the seafloor of the approved disposal area consists of sand, silt and clay and does not contain coral reefs or seagrass beds," it said.
The disposal operation would be "subject to strict environmental conditions", it added.
Authority Chairman Dr Russell Reichelt said the decision reflected "the agency's view that port development along the Great Barrier Reef coastline should be limited to existing ports".
"As a deepwater port that has been in operation for nearly 30 years, Abbot Point is better placed than other ports along the Great Barrier Reef coastline to undertake expansion as the capital and maintenance dredging required will be significantly less than what would be required in other areas."
Earlier this month, 233 scientists signed a letter to GBRMPA urging it to reject the plan, and environmental groups condemned the decision.
"This go-ahead for dumping is one more body blow for the reef, which further threatens marine life, its World Heritage status and Australia's tourism and fishing industries," Greenpeace Reef Campaigner Louise Matthiesson said in a statement.
The Great Barrier Reef is the world's largest coral structure, rich in marine life. It stretches for more than 2,600km (1,680 miles) along Australia's eastern coast.
Last year UNESCO warned that it could be placed on the World Heritage list of sites in danger, unless action was taken to improve water quality.