Japanese cyclist to pay 47m yen ($459,000) over fatal crash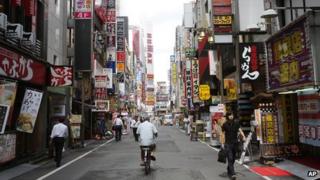 A court in Tokyo has ordered a cyclist to pay nearly half a million US dollars in damages to the family of an elderly woman he knocked down and killed.
The 46-year-old was ordered to pay the 47m yen ($459,000; £278,000) after he ran into the 75-year-old woman at a pedestrian crossing.
The judge said he wanted the case to serve as an example to other cyclists that bicycles can be deadly weapons.
Tokyo has seen a large increase in the number of cyclists in recent years.
'Inattention to the road'
The court found the cyclist was travelling at between 15 and 25km/h (9 to 15mph) when he knocked down Reiko Azuma, who suffered head injuries and died in hospital five days later, the Kyodo news agency reported.
"Unlike in earlier criminal proceedings, the court gave our case the same treatment as it would a car accident," the son of the victim, Mitsuhiro Azuma, said on Tuesday.
According to the news agency, the cyclist had already been indicted for manslaughter and was sentenced to two years' imprisonment, which was suspended for three years.
The judge ruled that the cyclist was not paying attention to the road when the accident happened, and that Mrs Azuma was "in no way at fault".
Accidents involving cyclists have increasingly come under the spotlight in the Japanese capital, with a recent huge increase in the numbers of people using bikes.
Some do it to escape the city's famously overcrowded public transport system, says the BBC's Rupert Wingfield-Hayes in Tokyo.
But the biggest increase came after the 2011 earthquake when hundreds of thousand of commuters were stranded for hours as Tokyo's subway came to a complete halt.
The free-for-all often seen in Tokyo of cyclists speeding through red lights, dodging pedestrians and sometimes texting whilst riding is coming to an end, our correspondent says.