Philippines refuses Hong Kong apology demand over hostage crisis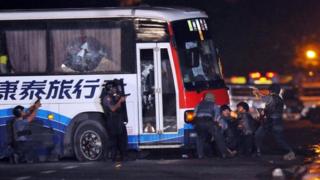 The Philippines says it will not apologise for a hostage crisis which killed eight Hong Kong tourists, after the territory initiated sanctions.
The Foreign Ministry said that despite the country's "deepest regret", it was "not prepared to consider" an apology.
The statement came after Hong Kong said it would remove visa-free access for Philippine officials and diplomats.
The eight tourists were shot dead in 2010 after an armed ex-policeman hijacked a bus in Manila.
Philippine police stormed the bus and shot dead gunman Rolando Mendoza, who seized the vehicle in an attempt to get his job back.
On the bus were 22 Hong Kong tourists and three Filipinos. The hostage drama, which was broadcast live on television and radio, lasted for 11 hours.
A Hong Kong inquest in 2011 criticised Philippine officials for their slow response and said they did not meet the hostage-taker's demands quickly enough.
On Wednesday, Hong Kong Chief Executive CY Leung announced the "first phase of sanctions" against the Philippines and said that more would be considered if it meant securing an apology.
"The sanctions we just announced are just and justified. We welcome the continuation of dialogue between us and the Philippines to bring the matter to a final conclusion," Mr Leung told media.
In response, the Philippines issued a statement through Foreign Ministry spokesman Raul Hernandez on Thursday.
"A renewed appeal for compassion was directly made to our government last October 2013. We responded to this appeal without equivocation and in a most generous manner," he said.
"Additional tokens of solidarity" had been pledged and the Philippines had been made to understand that "the victims and their families have agreed to this offer".
"In response to this generous offering, a total renegotiation has been opened by the Hong Kong SAR Government to seek a demand for an apology which the Philippines, as a sovereign nation, is not prepared to consider," he said.
"Our nation has already expressed its deepest regret and condolences over the incident and we are preparing to reiterate this."
Before the sanctions, Philippine diplomats and government officials had been able to visit Hong Kong visa-free for 14 days.