Pakistan protests over Shia bus bomb in Balochistan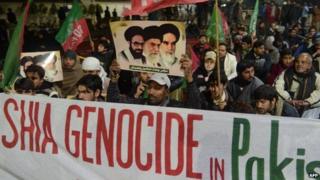 Thousands of Pakistanis are taking part in sit-ins across the country to protest against the killing of Shia pilgrims in a bus bomb on Tuesday.
At least 29 people died when a blast hit a convoy of buses, causing one to catch fire in the Mastung district of Balochistan province.
The pilgrims were returning from a trip to sacred sites in neighbouring Iran.
Recent years have witnessed a series of bloody attacks by Sunni militants on Pakistan's Shia community.
Sunni militant group Lashkar-e-Jhangvi, known for large-scale bombings and attacks against Shia Muslims, has said it was behind the Tuesday's attack.
It is the second such attack in Balochistan this month. On New Year's Day, at least three people were killed when a suspected suicide bomber attacked a bus near the provincial capital, Quetta.
Protesters burned tyres and blocked roads in major cities like Karachi, Lahore and Rawalpindi.
But in Quetta, where many of the victims were from, thousands are continuing a sit-in, despite freezing temperatures. Grieving families were out on the road overnight with coffins.
They are refusing to bury their dead until the authorities take action to put an end to violence against the minority community.
The refusal to bury the dead is an extreme protest in Islamic society, where people are normally buried the same day they die. It is a mode of protest that has been used before after the Shia community has been targeted.
Local Shia leader Musarrat Agha says the protests will not end until Pakistan's government cracks down on the militants, the Associated Press news agency reports.