Australia offers co-operation on asylum abuse probe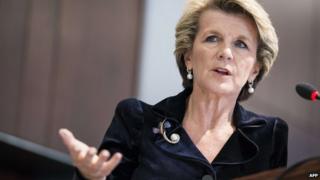 The Australian government has rejected reports its navy mistreated asylum-seekers, but offered to co-operate with an Indonesian investigation.
A group of asylum-seekers said they suffered burns after being made to hold hot pipes on their boat engine while being forced back to Indonesia.
Indonesian police said there were burn marks on the asylum-seekers and that they were trying to find out more.
Australia's government and navy said there was no basis for the claims.
Speaking in Washington, Foreign Minister Julia Bishop said: "I reject utterly any notion that the Australian government would condone that sort of behaviour and I cannot imagine for a moment that the professional people that we have in our forces would have behaved in that fashion."
"Of course if there is any co-operation we can extend to ensure that these allegations are scotched then we'd be prepared to do it."
Vice Admiral Ray Griggs said on his Twitter account: "Based on everything I know there is no basis to these allegations."
'Inexcusable'
The reports emerged after asylum-seekers told Australian broadcaster ABC that they were beaten by navy personnel, and burned after being forced to hold onto the boat's engine, as their boat was being towed to Indonesia in early January.
Indonesia serves as a transit point for people-smugglers, who ferry people to Christmas Island, the closest part of Australian territory, on rickety boats.
Footage posted on the ABC website showed asylum-seekers being treated for burns.
Indonesian police said that some asylum-seekers had burn marks on their hands.
"They showed the marks of what they said were inflicted upon them by [the] Australian navy - but we don't know for sure because the only witnesses are among themselves," detective Sam Kawengian told ABC.
Australian Immigration Minister Scott Morrison said that asylum-seekers had "strong motivations for seeking to discredit the activities of Australia's border protection operations".
Navy and customs officials said that the burns were probably self-inflicted, or occurred when asylum-seekers tried to fix the boat motor, The Australian reported.
Prime Minister Tony Abbott also said he trusted the navy. "Who do you believe? Do you believe Australian naval personnel or do you believe people who were attempting to break Australian law?" he told reporters.
However, Christine Milne, leader of the Greens party, said: "When allegations are made they need to be investigated."
"It is just inexcusable to stand there and say 'I have every confidence, therefore I'm not going to look into it'."
The row comes amid reports Australia's navy have been pushing boats carrying asylum-seekers back to Indonesia.
Last week, Australia apologised to Indonesia for incursions by its military into Indonesian waters. It said the violations happened "inadvertently" during operations to stop asylum-seekers.