Pakistan bomb kills six police polio guards in Charsadda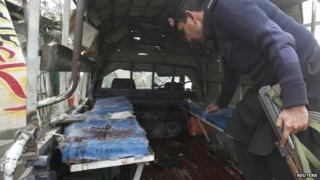 A bomb targeting a polio security team in north-west Pakistan has killed six policemen and a boy, police say.
The blast occurred near a police van in a market in Charsadda district, injuring at least nine others.
On Tuesday, three health workers taking part in a polio vaccination drive were killed in the southern city of Karachi.
Pakistan is one of three countries where polio remains endemic. Militants oppose the polio schemes which they see as a cover for international espionage.
Militants also accuse health workers of being part of a Western plot to sterilise Muslims.
Police say Wednesday's bomb in Sardheri Bazaar, about 30km (20 miles) north of the city of Peshawar, was detonated remotely.
"Seven people including six police personnel and a child were killed," senior police official Shafiullah told the AFP news agency.
The police van had been taking officers to guard polio vaccination teams in the north-west.
The attack is the latest in a series targeting polio teams in the country, even though the vaccination scheme won the backing last year of a prominent religious seminary said to wield influence over Taliban groups.
Poliomyelitis, which causes spinal and respiratory paralysis, can kill and remains incurable but vaccines have assisted in its almost total eradication today.
However, it is on the rise in Pakistan, due in part to militant resistance to mass vaccination campaigns.
It also remains endemic in Nigeria and Afghanistan, but WHO officials stress that progress in battling the disease is being made in these countries.
Earlier this month India declared itself polio-free, three years after its last reported case. It was a landmark in the global battle against the disease, and largely due to a massive and sustained vaccination campaign.