New Zealand's highest peak Mount Cook shrinks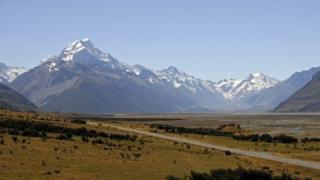 New Zealand's highest mountain has shrunk, scientists have revealed, with its peak 30m (98ft) lower than previously thought.
A new study puts the height of Mount Cook, also called Aoraki, at 3,724m (12,217ft), down from 3,754m.
It attributed the change to erosion of the summit area exposed after the 1991 collapse of rocks and ice.
But Mt Cook, in the South Island, still remains New Zealand's tallest peak, ahead of Mount Tasman at 3,497m.
"By carefully studying photos taken after the collapse, it appears that there was still a relatively thick ice cap, which was most likely out of balance with the new shape of the summit ridge," said Dr Pascal Sirguey of the Otago National School of Surveying, which carried out the assessment.
"As a result the ice cap has been subject to erosion over the past 20 years."
"While the effects of climate change may spring to mind as an explanation, it is probably a case of a simple change in the geomorphology of the mountain," he said in a statement.
The readings came from an expedition carried out by the University of Otago in November 2013 to obtain GPS data. This data confirmed calculations based on aerial photography, the university said.
Land Information New Zealand, the government department responsible for topographical information, said it would update its data to reflect the findings.