Cambodia halts extradition of Russian tycoon Polonsky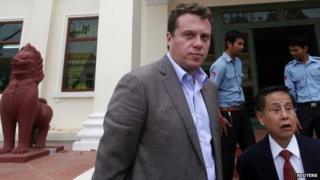 A court in Cambodia has suspended extradition proceedings against a Russian property tycoon wanted in Moscow over embezzlement allegations.
The court ruled that Sergei Polonsky, 41, could not be extradited because he was facing separate assault charges in Cambodia, his lawyer said.
Mr Polonsky, a property developer who denies embezzling, used to have a net worth of more than $1bn (£608m).
He was charged in Russia for allegedly stealing $172m from 80 investors.
Mr Polonsky is currently on Interpol's watch list. He was detained by Cambodia's police last year upon Russia's request.
It was not immediately clear whether Mr Polonsky could still face future extradition. He has been freed from detention.
"I am not guilty. I am a businessman," Mr Polonsky told reporters outside court.
His charges in Cambodia came after he reportedly got into a fight with some sailors on a tourist boat in 2012.
Once estimated to have a fortune of $1.2bn, Mr Polonsky suffered financial losses after the 2008 financial crisis hit, reports say.
In 2011, he was in the news after another Russian tycoon, Alexander Lebedev, punched him during a televised debate.