Thailand: Seven hurt as gunmen fire on Bangkok protest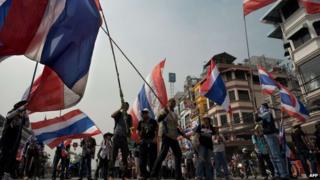 At least seven people have been injured when unknown gunmen opened fire on anti-government demonstrators in the protest-hit Thai capital, Bangkok.
One person is in a critical condition after the attacks on the main rally site - a day after six were injured in clashes between rival groups.
The opposition has been campaigning to overthrow Prime Minister Yingluck Shinawatra since last November.
Protesters want to block next month's snap election.
Protest leaders are planning a total shutdown of the capital on Monday, and the army and police say they are concerned there will be further violence.
Army chief Gen Prayuth Chan-Ocha said on Saturday: "I want to urge all sides and everybody, please don't clash and fight. We're all Thais. We can think differently but we cannot kill each other."
He also tried to quell rumours of military intervention, insisting that no-one would mount a coup - a contrast to earlier statements in which he said he could not rule one out.
The BBC's Jonathan Head in Bangkok says the army is believed to be divided over how to respond to the prolonged political stalemate.
Thousands of soldiers will deployed with the police to keep order next week, but the troops will be confined to protecting buildings rather than helping the police confront the protesters.
Increase in violence?
For most of the past two months the anti-government protest movement has been largely unopposed, except for a few violent confrontations with the police.
But recently there have been several night-time attacks by unidentified men on motorbikes.
Police said the first overnight attack occurred at about 02:30 local time (19:30 GMT Friday) wounding two people, including a security guard.
The second took place a few hours later, wounding five individuals.
Ms Yingluck's Pheu Thai party is considered likely to win next month's election.
But the protesters say her populist policies have created a flawed democracy, and want her government replaced with an unelected "People's Council".
Some believe that the ousted former leader Thaksin Shinawatra - Ms Yingluck's brother - is still controlling events in Thailand through his sister and her government.