Aitzaz Hasan: Pakistan 'hero' recommended for award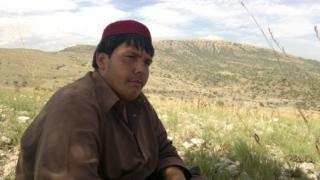 Pakistan's Prime Minister Nawaz Sharif has recommended a bravery award for a teenager killed when tackling a suicide bomber who targeted his school.
Aitzaz Hasan, 15, is being hailed as a hero for confronting the attacker, who then detonated his vest.
The Sitara-e-Shujjat award can only be awarded once Pakistan's president has approved it.
The incident on Monday prompted an outpouring of praise and gratitude across Pakistan.
"Shaheed Aitizaz's brave act saved the lives of hundreds of students and established a sterling example of gallantry and patriotism," a statement from the prime minister's office said.
The Minister for Information in Khyber Pakhtunkhwa (KP) Province Shah Farman, said on Thursday that Aitzaz was a "real hero and true face of the people of Khyber Pakhtunkhwa".
Local authorities have also said they will offer compensation for Aitzaz's family.
'Valiant act'
The incident took place on Monday in Ibrahimzai, a Shia-dominated region of Hangu, in north-western Pakistan. There were almost 2,000 students in attendance at the time of the attack, and Aitzaz is being credited with saving hundreds of lives.
Despite the pleas of his fellow students, he decided to confront and capture the bomber who was approaching the school, his cousin told the BBC's Aleem Maqbool.
"He told them 'I'm going to stop him. He is going to school to kill my friends'. He wanted to capture this suicide bomber. He wanted to stop [him]. Meanwhile the suicide bomber blasted himself which resulted in the death of my cousin," Mudassar Hassan Bangish said.
His family insist that rather than focus on the sorrow brought about by his death, they want to focus on their pride in his actions.
"He is a shahid [martyr]. A shahid of his whole nation," he said.
On Twitter, users have been paying tribute to Aitzaz using the hashtags #onemillionaitzaz and #AitzazBraveheart echoing the language used online around figures such as Pakistani education campaigner Malala Yousafzai and the Delhi rape victim, whose death galvanised Indian public opinion and prompted changes in rape laws there.
Hangu is close to Pakistan's semi-autonomous tribal regions, which have a strong Taliban and al-Qaeda presence and the area is also known for sectarian violence against Shia Muslims.