Chaudhry Aslam: Funeral held in Pakistan for policeman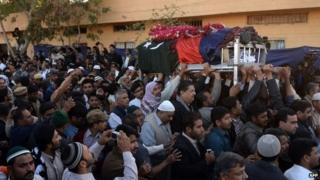 The funeral for a top Pakistani policeman killed in a bomb blast on Thursday has taken place in the port city of Karachi amid tight security.
Chaudhry Aslam, the head of Karachi's anti-terror unit, had survived a number of attempts on his life but was killed in a bomb attack on his convoy.
The time and venue of funeral prayers were changed at the last minute for security reasons.
The Pakistani Taliban said they carried out Thursday's attack.
A spokesman said Mr Aslam had been targeted as he had "killed, tortured and wounded" Taliban members. Two other policemen also died in Thursday's attack.
High profile police and politicians attended, including the chief minister of Sindh province, of which Karachi is the capital, Qaim Ali Shah.
Participants had to pass through three walk-through scanners to reach the prayer ground, and mobile phone signals were jammed - mobile phones are often used by militants to remotely detonate explosives.
All the roads around the venue were closed for traffic. After the prayers, a police squad formed a guard of honour, and wreaths were placed on the three coffins.
Investigations into the bombing are still under way. One report in the Express Tribune newspaper says that about 200kg (440lb) of explosives were used.
Unconventional methods
Chaudhry Aslam was one of Karachi's highest-profile police officials, known for leading daring police raids and gun battles against militants in some of the most dangerous neighbourhoods of the city.
Scores of suspected criminals and militants were killed or captured on his watch.
The BBC's Shahzeb Jillani in Karachi reports that not everyone approved of his unconventional methods.
Some saw him as too powerful and too resourceful, seemingly operating above the law. He was accused of deaths in custody and staging "fake encounters" in which suspects were killed rather than arrested, charges he denied.
Nevertheless, his murder is being seen as a major blow to the government's efforts to fight crime and militancy in Pakistan's biggest city, our correspondent reports.
Prime Minister Nawaz Sharif paid tribute to the police chief and condemned the attack.
Our correspondent says that such a dogged and harsh pursuit of militants made him a long-term target of the Taliban.
Mr Aslam had escaped unhurt when a car packed with explosives blew up outside his home in Karachi in 2011, killing at least eight people.
After that attack, he said: "They are cowards. They call themselves Muslims but they are unbelievers. This will make me even more determined to carry on operations against them.
"They targeted sleeping children. I walk these streets day and night. If they want to kill me, they should come and attack me directly," he said.