US 'concern' over Afghan prisoner releases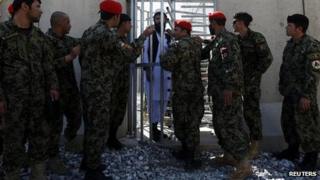 Washington has expressed concern about a plan by the Afghan government to release scores of prisoners considered by the US to be dangerous.
Afghanistan said there was not enough evidence against 72 of 88 prisoners previously held by US forces at the Bagram air base.
However, US state department spokeswoman Jen Psaki described the 72 detainees as "dangerous criminals".
She said there was strong evidence to link them to terror-related crimes.
Correspondents say the planned release will put further strain on US-Afghan relations as they try to reach a deal allowing some US troops to remain in Afghanistan after 2014.
"We have expressed our concerns over the possible release of these detainees without their cases being referred to the Afghan criminal justice system," Ms Psaki said.
"These insurgents could pose threats to the safety and security of the Afghan people and the state."
The US says it has evidence implicating all 88 in the deaths or wounding of 60 coalition forces and 57 Afghan forces.
'Step backwards'
Last week, US senators met Afghan President Hamid Karzai in Kabul to warn him that any releases from the Parwan Detention Facility at Bagram would be a "major step backwards" for US-Afghan relations.
A statement released by the US last week said it would constitute a breach of a memorandum of understanding agreed between the two sides at the time of the Bagram jail handover.
President Karzai's office said a review of the prisoners' cases by intelligence and judicial officials had found no evidence of wrongdoing for 45 detainees and there was insufficient evidence on another 27.
"We cannot allow innocent Afghan citizens to be kept in detention for months and years without a trial for no reason at all," spokesman Aimal Faizi told Reuters.
"We know that unfortunately this has been happening at Bagram, but it is illegal and a violation of Afghan sovereignty and we cannot allow this any more."
There was no indication of when their release might take place.
The remaining 16 prisoners will continue to be held until their cases are reviewed.
Hundreds of prisoners at the Bagram jail have been freed since the Afghan government took over the running of the prison in March 2013.
The US-led international military force in Afghanistan is due to hand over all security duties to Afghan forces before its full withdrawal by the end of 2014.
But if a "Security and Defence Co-operation Agreement" is signed between the two countries, about 10,000 US troops could stay in Afghanistan for another 10 years.